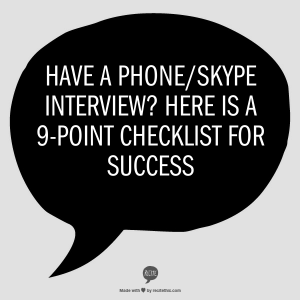 Virtual interviews usually precede in-person interviews, but if you do not make a good impression in a virtual interview, you likely will not get the chance for a face-to-face one. The Internet makes it easy for you to apply for a job anywhere in the world, but the company is not going to incur the expense of bringing you in for an in-person interview unless you are a good fit — and often that is determined through one or more virtual interviews.
Traditionally, virtual interviews (usually phone interviews) were used to conduct a pre-screening for an in-person interview and to answer any questions not addressed in the résumé. But, today, phone interviews are also replacing some in-person "first interviews." You may be asked the same questions on the phone you might have expected would be asked in a face-to-face interview. So prepare like you would for an in-person interview.
Virtual interviews are generally shorter than in-person interviews — they may be as short as five minutes, or last up to an hour. The typical phone interview lasts 20-30 minutes. When the phone interview is scheduled, that is the time to ask how much time to allow — and then add 30 minutes to it, just in case.
The most important advice for any type of interview also applies to virtual interviews: practice really does make perfect.
Here is a nine-point checklist for success in phone and Skype interviews:
1. Print out a hard copy of your résumé (make sure it is the same version the interviewer has), cover letter, and the job posting/job description.
2. Prepare your list of questions you want to ask in the interview. Check out this blog post I wrote on how to research companies.
3. Assemble your talking points and company research. I find index cards to be very useful, because then the sound of shuffling paper can't be heard on the other line if you are on the phone.
4. Record a professional voice mail message on your phone.
5. Have a glass of water nearby in case your throat gets too dry.
6. If using a cell phone, have your phone charger and an outlet nearby.
7. If using a laptop, make sure it is plugged in and is charging.
8. Eliminate any distractions and put up a "Do Not Disturb" sign.
9. Have your calendar or schedule handy in case you are asked to schedule your next interview.
As with an in-person interview, be sure to inquire about what the next step will be. And write a handwritten thank you note or email as soon as you are off the call. Follow-up is key after a phone or video interview. Did you know that research indicates that employers are less likely to keep jobseekers up-to-date about their prospects with the company after a phone interview than with an in-person interview? So, make sure that you follow-up appropriately.
Good luck and let me know your thoughts in the comments!


Thanks for visiting! My blog is a resource guide for educational and informational purposes. I use my experiences, experiences of others and various resources to write my articles. But, my advice doesn't come with any guarantees. You're cool with that, right? Thanks again!